2012 Super-Team Family: The Lost Issues: Wonder Woman and Captain America #13
Click For More!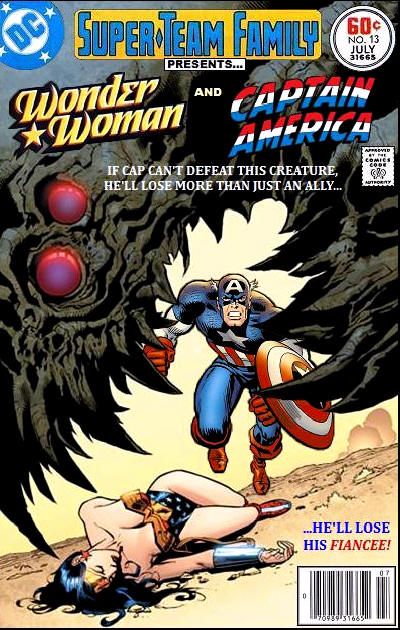 I've previously noted that Ross didn't give Wonder Woman any action on his fan fiction crossover comic cover blog in 2010, and 2011 was fairly lean as well. Her appearances didn't really blow up until 2012, in part due to multiple dances with the same partner in a relatively short expanse of time. Forget Superman, Batman, or any other DC hero... the most perfect romantic super-union for Diana Prince in none other than Steve Rogers! The Super Soldier and Amazing Amazon are basically my two favorite heroes of all time, both pure of heart, unfailingly self-sacrificing, patriotically garbed, and my doesn't an unbreakable shield go well with bullets and bracelets. I want MOAR-- and there's already been two covers following this one! That's why I had to add the "#13," since Ross sequentially numbers his Super-Team Family Lost Issues, and I'd rather give each of these their own spotlight post instead of just creating a linklist of the lot!
...More Lost Team-Up Issues...